Article originally posted on www.erieinsurance.com

(opens in new tab)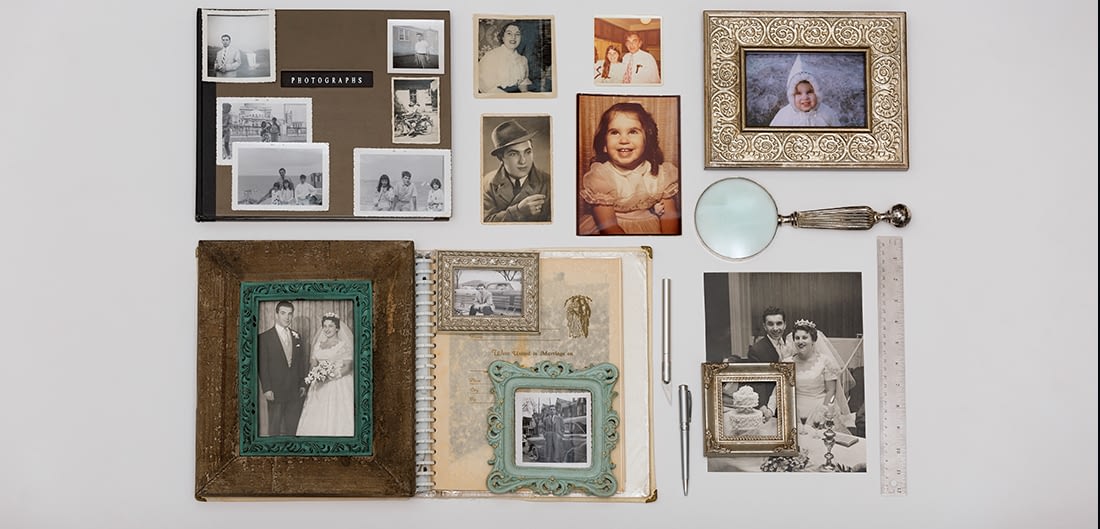 As the old saying goes, "a picture is worth a thousand words." This is especially true when it comes to your collection of family photos.
We take photos to capture the most significant milestones in our lives. Whether it's your wedding day, the birth of a child or their high school graduation, pictures can take us back to a moment in time – even as memories fade.
But as much as we value and cherish our photo collections, let's be honest: most of us do little to protect them. You may have boxes of physical photos tucked away in a closet. Or thousands of digital files stored on a hard drive. But either way, these irreplaceable heirlooms can be just a broken pipe or a dropped computer away from being lost forever.
At ERIE, we believe that memories are worth protecting – just like the homes they're made in. So here are some tips on how you can preserve those family photos for years, and generations, to come:
How to Protect Digital Photos
Thanks to our smartphones, we take more photos now than at any point in human history. And unlike the days of film cameras, there's no limit to the number of pictures we can capture or store. But don't make the mistake of keeping all those photos on a single phone, memory card or hard drive.
Backing up your files is critical to the protection of your digital photos. You can do this using a physical storage device, like an external hard drive. But today there are plenty of cloud storage solutions that make backing up your images a breeze. Most of the tech giants like Apple, Microsoft, Google and Amazon now offer low cost, or even free, cloud backup solutions for photos. But not all storage services are the same.
Here are some things to consider before uploading your pictures:
Storage size: Every picture takes up digital space. And all those photo files can add up quickly. Depending on your photo collection, the allotted free storage may not be enough. So consider a cloud subscription that gives you the space you'll need to protect all your images.
Sharing and editing: Many cloud services give you the option to make photos public or private. And if you're paying for online storage, you're most likely getting access to apps allowing you to share and edit photos. Choose a service that comes with features you'll use the most, whether it's editing your photos or sharing albums with friends and family.
Back up your photos: Most cloud storage services will automatically back up your digital photos. So follow the instructions to set up this feature on your smartphone and computer. It's also a good idea to make sure your photos will be archived somewhere else online, in case they're accidentally deleted from a device.
How to Protect Printed Photos
For older photos that weren't taken on a digital camera, there's no way to recover a lost image. When it's gone, it's gone. Don't lose your photos because of improper storage. Instead, follow these tips to ensure you can enjoy those albums for years to come:
Use plastic covers: Covering your photos with plastic sleeves can make a big difference in the preservation of the photos. Opt for a high-quality, acid-free sleeve to provide an extra layer to protect your pictures from the elements.
Give them a new home: If you have photos in an old album, chances are the pages contain acidic materials like rubber, ink and glue that can cause photos to turn yellow and stick. Moving your pictures to a new album or photo box can help preserve them.

Bonus tip: if an old picture is stuck to a page, lift a corner of the photo and gently saw back and forth with dental floss to free it. For fragile photos that still won't come loose, consider leaving the photo glued in place and cutting the page out of the old album.

Organize your photos: Labeling the backs of your photos can help you remember when and where they were taken, allowing you to sort them accordingly. Just be sure to use a pencil, not ink pens or tape, which can damage your images over time.
Store them in the right conditions: Don't just store your photos anywhere you find room. Instead, be sure they're kept in a place that's cool, dark and dry. Light, humidity and temperature fluctuations can all cause damage to your printed photos.
Make them digital: With antique photos, like 20th century heirlooms, some damage can be irreparable. To preserve your images for future generations, consider having them scanned into digital files. You can do this at home with a high quality scanner, or search for local companies that will help you with the process.

Even if you make digital replicas, professional archivists generally recommend that you hang on to the physical copies, too. Scans usually aren't a one-and-done solution. Remember that digital scans have to be migrated every 10 years or so as file formats and computers evolve.
Present your new collection
Once you've sifted through all your photos, find creative ways to display them for friends and family. In addition to bringing back fond memories, your pictures can add character to your home and remind others of your family history. Looking for unique ways to show off your photos? Here are some ideas to get you started:
Place older photos into new frames around the house.
Use a collection of printed photos to make a collage.
Place new photo albums on stands and coffee tables.
Print old photos onto T-shirts or coffee mugs for family gifts.
Use a digital frame to present a slideshow of your digital photos.
Bring back the formal "slideshow" by gathering your family share your newly organized archive.
What if my photos are damaged in an accident?
For many, it's a worst-case scenario: Your precious family albums are burned in a house fire. What happens then?
With ERIE, you can rest easy. After a covered loss, most homeowners insurance policies cover the cost to restore photographs, such as those damaged by smoke. For prints that were completely destroyed, your homeowners coverage usually pays to reprint a physical copy (of like size) if you have a digital backup.
Home is where love lives and memories are made. At Erie Insurance, our pledge is to protect the beams and the boards, sure, but also the other things that make your house a home.
Learn more about homeowners insurance from ERIE or contact your local Erie Insurance agent to make sure your home and everything it stands for is protected.

A better insurance experience starts with ERIE.
Haven't heard of us? Erie Insurance started with humble beginnings in 1925 with a mission to emphasize customer service above all else. Though we've grown to reach the Fortune 500 list, we still haven't lost the human touch.
Contact Tiffany R Battaglini Insurance Agency LLC today to experience the ERIE difference for yourself.
Filed Under: Home Sense